Oakville's Favorite Web Design & Development Solutions Provider
Beautifully Crafted Affordable, Amazing & Responsive Websites at Just $899
At Pushfire, we are a leading name in Oakville's web design and development solutions including WordPress development, online store websites and WP maintenance. Our team of developers create beautiful, responsive and creative designs for myriad industries whether Big or small. If you need ecommerce store powered by WooCommerce or responsive theme for WP, we have the right solution.
Services For Your Business
Beauty isn't everything, but it does matter a lot in web design. Our WP web designers create visually appealing and easily navigable websites. We help you put your best foot forward.
Noun, Verb & Adjective – SEO is all. We use a perfect blend of search engine optimization and social media marketing along with fresh web content to keep our clients at the top of SERPs.
Facebook? Twitter? LinkedIn? Let us take the control of your social accounts and provide your business with the social media expertise it needs to leave your competitors behind.
Want WooCommerce integration into your webiste? Our WordPress developers in Oakville create estores powered by WooCommerce that deliver powerful sales along with marketing.
Google AdWords is one of the best ways to reach your targeted customers and drive online traffic to your website. We let you focus on your core business while we take care of your marketing goals.
Our designers deliver powerful and unique graphic designing services. We create logos, banners, landing pages and more to attract your customers and leave a long lasting impact on them.
Get a Visually Appealing Website in Just $899. Talk to Our Web Designers Today.
Be Ready for Mobile Customers
Retina Ready

We make spectacular responsive WordPress websites that work on every device.
Fully Responsive

Serve your customers regardless of the device they're browsing your website from.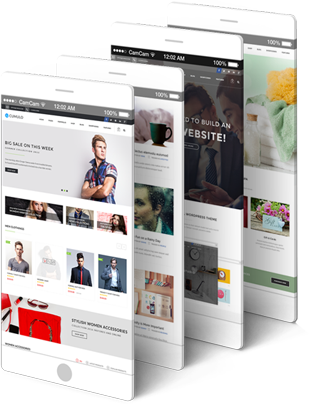 Our Web Design Oakville Clients Love Us
Humanized Approach : We take a human-centric approach to internet marketing. We have the mindset of a small company, but the capabilities of a bigger one.
Ideas & Creativity : Our agency is oozing with fantastic ideas. We are packed with passionate and skilled staff. We work with businesses of all sizes – from emerging firms to established brands.
Dedication & Perseverance : Everything is handled in-house. We never let someone else do the fun stuff. We don't take budgets for granted. We give a fixed project fee and deliver more than promised.
Let's Level Up Your Corporate Website Together
Ideas to Reality
We follow the latest trends to achieve your desired results. Using the most cutting edge solutions, we provide you with the results you'll love us for. And we're always full of ideas.
Why Go For Custom WordPress Design
WordPress can accomplish some amazing things. And at PushFire, our experts specialize in WP responsive websites that deliver all the excitement to your deserving visitors.
From Simple to Amazing
We ensure that everything is built on simplicity. But when it comes to amaze your clients, we leave no stone unturned to create mesmerizing experiences that truly leave them wanting more.
Experience Perfection in Oakville Web Design Realm. Call Today to Discuss Your Project.