Google needs no introduction. The platform is undoubtedly the most popular search engine available on the internet, capturing a whopping more than 90% of the total market share. These days, Google is offering different paid ad features to promote your content in the search engine. But, many businesses are not aware of the feature or their effectiveness. So, here in this article, you will know more about the Google Paid Ads Oakville and its effect on Search Engine Optimization (SEO).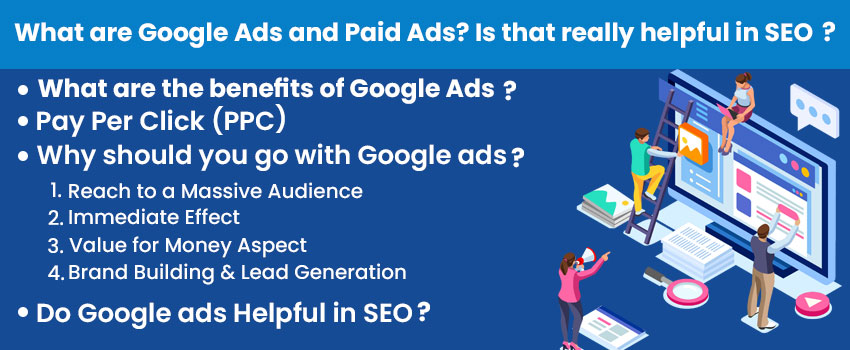 What are the benefits of Google Ads?
Before going into the advantages of Google ads in detail, let's familiarise ourselves with the term PPC.
Pay Per Click (PPC)
You must have noticed the ads that are featured in the top portion of a search result; these are nothing but Google ads. Pay per click, commonly known as PPC, is a great way to attract your potential customers to your website. Its reasonable cost factor makes it a great choice for newly started business firms. Here, you only need to pay once the user clicks on your features ad. In order to get the maximum result from PPC, you are expected to run an efficient campaign.
As you have already got a basic idea about Google Advertising Oakville, it's time to know the positives of Google ads; as a result, you can take your call accordingly.
Why should you go with Google ads?
Reach to a Massive Audience
The larger audience you reach, the bigger your sales number will be. As a result, it is important to convey your message to a larger group of people. For that matter, Google ads can do the job for you. Even if you are new to the industry, you can still take advantage of Google ads in order to popularize yourself in the relevant circle.
Immediate Effect
Many firms make the mistake of solely depending on Search Engine Optimization (SEO) for their online marketing. But, you need to understand that SEO is a continuous process, and it takes time to give you a result. However, the same is not the case with Google ads. By taking the help of Google ads, you can get an instant result and offer a much-needed boost. Besides, it would be best if you also started making an effort on other platforms, such as various social media platforms.
Value for Money Aspect
Marketing is an expensive affair, and not everyone can afford to spend such a high amount of money, especially when there is no guarantee of return. However, by opting for Google ads, you can avail of great value for money deal. The best part is, you will have the accountability of each penny that you spend on the marketing part.
Brand Building & Lead Generation
Similar to Search Engine Optimization (SEO), brand building is a slow process. By featuring your website on the top of relevant search results, you can get a great impression, which will eventually help your firm in brand building.
As more people will reach your website, it will easier for you to generate leads. Once you get the lead, it will be a lot easier to make contact with them and convert them into your customer.
Do Google ads Helpful in SEO?
Many people make the mistake of assuming a better SEO score with the help of paid Google ads, which is not true. The simplest answer to this question is NO. SEO offers organic results, whereas Google ads are paid results.
Wrapping it off
Google Ads Oakville is a great platform to improve the traffic on your website, which will eventually increase your sales. However, a person with no expertise in this particular field cannot manage a successful campaign. Therefore, you need a professional organization like Pushfire in order to run an effective campaign for you.