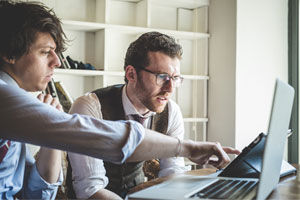 Having a business logo is an icon that represent your company in front of the world. Multinational companies spend a lot on their logos to define their brand. That's because these logos help connect people to your business.
Take an example to understand the importance of logo. A piece of fruit with a bite taken out of it, anybody can easily guess that you are talking about a multinational company 'Apple'. This is the value of having a logo. Most of the people immediately identify your business through a logo.
Never ever underestimate the importance of logo because it helps make the first impression of your brand on people.
Build a unique identity:
A good logo gives an easily recognizable visual symbol and unique identity to your business. A professional logo helps to tell the story of your business. Get the help of professionals to make enterprise grade logo for your business because it is the unique identity of your company. You can represent your company in front of people through a logo without saying anything. That's why its an exclusive identity of your company.
Work as advertisement:
Your logo is just like an advertisement. It plays an important role to promote your brand or business. If you are not able to upload a content due to your busy schedule, an eye catching logo is sufficient to promote your business. In such situations, your logo is enough to tell everything about your services and grab the attention of your users. It helps to make your brand more memorable.
Enhance brands:
How you identify a branded product? Obviously your answer is a logo. When you go to market to purchase any branded product, first you identify it from its logo. The multinational cloth and shoe manufacturing companies like Nike and Levi's, people know about them through their logo design. Except these, McDonald and KFC are known for burgers and other snacks. In short, a logo boosts your business immensely.
It will separate you from others:
May be starting a new business is easy but establishing your own position in the market is not easy. To make it easy, make sure you have a logo. As you already read above that a logo promote your business or brand. Similarly, it bestows on you a separate image in the market. Having a professional logo allows you to compete your business with your competitors.
Getting the help of a professional logo designer to make a logo helps you immensely promote your business worldwide through your new logo design. It is a great idea and also you can get more sales. Remember one thing before making it, don't go with inexperienced designers as they may not deliver appropriate results.