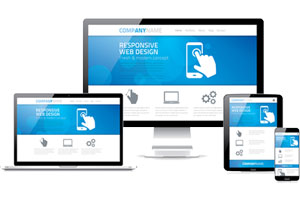 Yes, responsive web design is a business must-have in 2016. With the advancement in technology and connectivity, more and more people are turning to smartphones for Internet surfing. Smartphones are now our new computers. So, it makes sense that your website should be responsive enough to deliver excellent user experience across multiple devices and browsers. A responsive web design automatically adjusts its content according to the device size.
Responsive designing is a Key
When it comes to web designing, responsive design is the key. These days, website owners need to create a separate website to entertain their prospects who are on mobile devices. Targeting specific device is indeed a costly affair, That's why, responsive design is here to rescue you.
Responsive web design is a framework that ensures the users are given optimum experience regardless of the device they are using. Meaning, the content, graphics and call to actions are gracefully fit the device you are using. Users don't have to zoom in and out or scroll the page horizontally to read the required section of the site.
Google Favors Responsive Websites
Yes, Google – the big daddy of search engines favor responsive web designs. Google recommends webmasters to implement the industry best practice of incorporating responsive design, serving the same HTML for all devices. Now, in order to impress Google, you should ensure that your website caters the needs of the smartphone users as well. They should be ale to find the information without much hassle.
Validate Other Errors
Google also says a BIG NO to the websites that are prone to 'configuration errors' such as unplayable videos or irrelevant links. Non-functional media may be the outcome of licensing issue or missing capabilities. Make sure you use HTML5 standard tags to include videos as content formats such as Flash may not work in all devices. Links should be accurate and pointing to the relevant page.
Credibility of Website
Website owners who create hand-held versions generally copy the content from their main website. This can harm the credibility of your mobile website and such websites also suffer from high bounce rate. On the other side, with a responsive design, you don't need a separate website as it performs well on all the platforms. This enhances your brand's credibility and help you tackle a high bounce rate.
A simple and user-friendly website can take your business to the new heights by gaining maximum user attention and time. Make sure you hire an experienced web designer to conceive an effective web design for your business. Simply put, user experience is everything. Responsive websites will definitely see a rise in rankings. So make sure you don't miss out this chance!